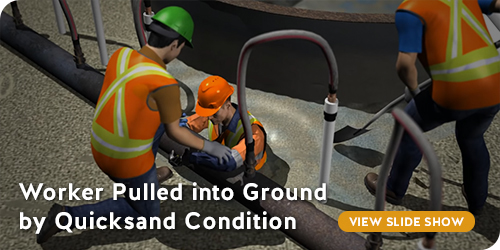 This audio slide show uses animation and photos to re-enact an incident at a sewer construction site, where a worker was pulled down and trapped in the ground when a quicksand condition developed under his feet.
Impairment resources translated into seven languages

Two resources aimed at increasing awareness of workplace impairment issues are now available in simplified and traditional Chinese, Hindi, Korean, Punjabi, Spanish, and Vietnamese.
The deadline for workplaces to complete the transition to the WHMIS 2015 program was December 1, 2018. Workplaces should now be using the updated classifications, labels, and safety data sheets (SDS).
Do you have an idea that could help improve workplace health and safety? Develop your idea into a solution that makes a difference with a WorkSafeBC Innovation at Work grant.

Safety inside a cannabis greenhouse
Three steps for performing a risk assessment
Disposal tips for renovation waste

Take the challenge online or print the photo for safety meetings and toolbox talks.

Product recalls: Canadian Tire Mastercraft air compressor and Mammut Sports Group avalanche airbag
Please share this update with your colleagues and friends.




WorkSafeBC, PO Box 5350 Stn Terminal, Vancouver BC V6B 5L5 / worksafebc.com