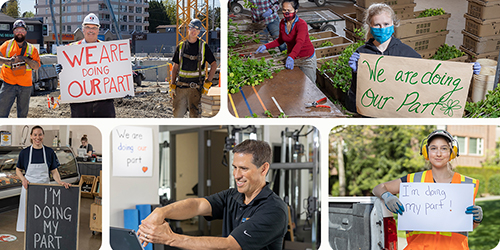 As restrictions are lifted and more businesses resume operations, we're asking employers and workers to familiarize themselves with COVID-19 workplace health and safety resources. These protocols and resources will help you to reduce the risk of COVID-19 transmission and maintain a safe and healthy workplace.
COVID-19 workplace safety industry protocols now posted

Employers need to develop a COVID-19 Safety Plan. One part of that plan is to identify workplace protocols to keep your workers safe. Use these industry-specific guides as you develop your plan.

COVID-19 Safety Plan template for employers

This tool guides you through a six-step process to help you create your Safety Plan that outlines the policies, guidelines, and procedures you've put in place to reduce the risk of COVID-19 transmission. This tool is also available in Chinese (Traditional and Simplified), French, Punjabi, and Spanish.

Resources to help employers manage the risks of exposure to COVID-19

These resources will help you maintain a healthy and safe workplace and reduce the risks to your workers. Some of the resources are also available in multiple languages.

Posters to help workplaces prevent the spread of COVID-19

Put these posters up in your workplace to remind workers and visitors how they can help prevent the spread of COVID-19. The posters are also available in multiple languages.

Maintaining health and safety while working from home

These resources provide practical health and safety tips for working from home for workers and employers:

OHS Guideline updates

On April 30, the following guidelines were revised: jurisdiction over marine operations; general requirements for radiation exposure control plans; and alternative acceptable standard for buoyancy equipment.

NAOSH celebrates safety champions throughout 2020

This year, NAOSH Week has expanded to an all-year event on social media. Tag your photos and videos with #BCSafetyChampion or #SHWEEK2020 to share how your organization is promoting health and safety and to celebrate your own safety champions.

Product recalls

Recent posts from the Speaking of Safety blog
More on worksafebc.com
Know someone who would find this information useful?
Encourage them to subscribe to this enews at worksafebc.com/enews.




WorkSafeBC, PO Box 5350 Stn Terminal, Vancouver BC V6B 5L5 / worksafebc.com